Window And Door Replacement
Do you have old, drafty windows and doors that are hard to open and close? Do you have rotted wood windows in need of repair? Do you have problems with your wood windows sash? IF you answered yes to any of these questions, we can help!
Whether you need one window or a complete window replacement, we help you choose high energy efficient windows that fit within your budget. New windows and doors offer a number energy saving benefits, and they are an essential part of any home remodel.
Replacement windows are windows that are designed to be installed in the frame of an existing window to replace the old window. They can be made of a variety of materials, including wood, vinyl, and aluminum, and are available in a range of styles and sizes to suit different architectural styles and design preferences. Some common reasons for installing replacement windows include improving energy efficiency, reducing noise, increasing security, and enhancing the appearance of a home. If you're considering replacement windows for your home, it's important to choose windows that are properly sized and installed to ensure that they function correctly and provide the benefits you're looking for. Replacement Windows Lancaster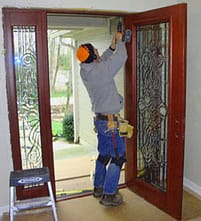 RFO Contracting installs high-quality custom windows and doors as well as standard sizes in a variety of styles and materials. Our experienced professionals will work with you to determine the best fit for your home's needs and appearance, and we will provide you with a hassle free installation. Need custom window screens or are in need of a sliding window replacement? No problem! wood window sash replacement
Home Window Repair
Near Me
It is that moment when a rake is swung or a ball is thrown in the wrong direction. Glass shatters and now you have a broken window that lets in the rain, snow, or insects. Does a broken window mean entirely installing a new window—including the high price?
Not necessarily. Instead of investing in a complete window replacement, you can buy and install a far less expensive window sash replacement kit. Our home window replacement team will give you options that fit your taste and budget. replacement Windows Lancaster PA and home window repair near me
Key architectural elements such as the trim, casing, and window frame remain in place, with only the top or bottom sashes being replaced. With this kit, you'll bypass the labor-intensive job of completely replacing the broken or poorly performing window by fixing only the part that needs fixing: the window sash.
RFO Contracting services Adamstown, Akron, East Hempfield, East Petersburg, Elizabethtown, Lancaster, Leola, Lititz, Manheim, Mountville, New Holland and the greater Lancaster County PA area.
Call (717) 435-3837 for a no cost, no pressure and no obligation quote.
home window replacement