Gutter Repair
Gutters serve a vital purpose by preventing water damage around your home. While they're mostly out of sight, they shouldn't be out of mind, as rain gutters can easily become clogged or damaged, which can lead to much larger problems and cost. Gutter Repair Near Me
RFO Contracting will provide a  free inspection of your rain gutters if you are experiencing problems. We service Adamstown, Akron, East Hempfield, East Petersburg, Elizabethtown, Lancaster, Leola, Lititz, Manheim, Mountville, New Holland and the greater Lancaster County PA area.
Here are three ways to repair and maintain your gutters so they remain effective at guiding water away from your home
Inspect all rain gutter downspouts for damage and blockage
Inspect for broken sections and leaks
Inspect gutters for blockage and strength integrity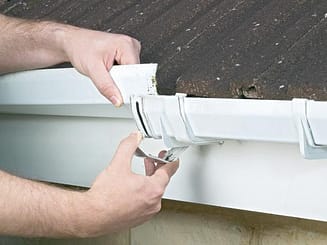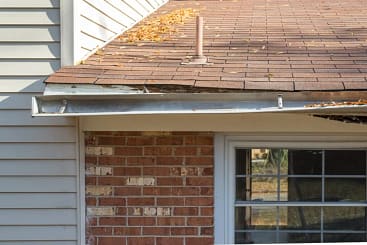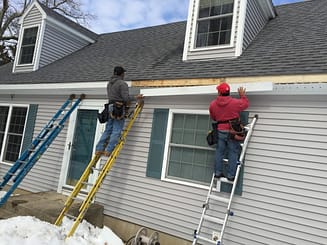 Gutter Cleaning and Repair
Near Me
Roof & gutter cleaning is a regular part of roof care. RFO Contracting can inspect and provide roof gutter repair and cleaning services for your home or business. We also are qualified to repair copper gutters and copper downspouts. Gutters are an essential part of your home's weather protection by directing water off your roof and away from your foundation.
Consider to install gutter guards – They do work at keeping leaves and other debris from clogging your rain gutters.  Clogged gutters can cause a whole host of problems. We utilize a metal mesh gutter guard system that keeps all leaves and debris (including pine needles) out of your gutter.
Hear are the 5 most common problems that stem from clogged gutters.
Foundation problems: If you have a 2,000-square-foot home, every inch of rain translates to more than 1,200 gallons of water pouring down your roof! A properly functioning gutter will carry that water through a downspout and away from your home. But a clogged gutter does the opposite—allowing water to spill over the sides and pour down your walls. Pooling water around your foundation can cause erosion which weakens the walls, leading to foundation cracks and settling.
Broken gutters: When your gutters are clogged, the water they collect has no place to go. Instead, it fills your gutters to the brim. With each gallon of water weighing about 8 pounds, all that extra weight can bend your gutters or tear them away from the roof.
Wall and ceiling damage: Clogged gutters can also cause water leaks on the inside of your home. Trapped water can rot the wooden fascia boards your gutters are mounted to, letting moisture enter your home. And in the winter months, ice dams can drive snow melt underneath your shingles. (Do you know how to remove an ice dam?

Gutter Repair Near Me

Wet basement: If your basement isn't waterproofed, the water pouring down your foundation can lead to a damp basement. This is caused by water seeping through your basement's porous walls and floor.  Installing a French drain could help with basement water issues.
Insect infestations: Nobody likes mosquitos in their backyard. But pooling water in your gutters can be the perfect breeding ground for them. Damp mud and leaves can also be an inviting place for bees and wasps to build their nests.
Gutters are essential to protect your home or business from water damage. Call RFO Contracting for gutter repairs & replacements you can trust! Free estimates
Call (717) 435-3837 for a no cost, no pressure and no obligation quote.