Cedar Shake Roofing Shingles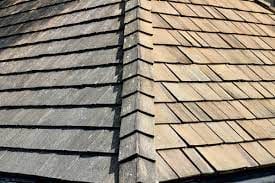 Are you ready for a new roof that stands out more than the standard asphalt roof? Have you noticed those great looking wood shingle roofs in your neighborhood? If so, the wooden roof you're admiring is a cedar shake roof.
The team at RFO Contracting has been replacing all types of roofs (including cedar shake) for our local customers in Lancaster County. We know what it takes to give you a new roof that'll last for decades. When you work with us, you'll never worry about your roof again.
What is a cedar shake roof?
A cedar shake roof is a premium roof system made of natural wood (cedar) materials. While it serves the same functions as an asphalt or metal roof, it's one of the most aesthetically pleasing roof's you'll see. That's what sets a cedar shake roof apart from the more common roof types.
The shingles are made out of cedar trees that come from the Northwest United States or Southwest Canada. To make these shingles, they take large cedar trees and cut them into 2-foot sections and hand splitting them or sawing them into a tapered thickness (tapersawn). Hand split gives you a more rugged look, while tapersawn is a much smoother look.
There are 3 grades (types) of cedar shake shingles. There's common, selects, and 100% straight grain
Be aware, the manufacturers of cedar shakes don't keep stockpiles of the shingles. They're made to order, which means they don't split or saw them until an order is placed. Because of this, it could several weeks to get the materials for your cedar shake roof.
After the job site has been prepped, we will l start removing your old roof. The team will inspect the roof deck, prepare it, and then start installing your new cedar shake roofing materials on top of it.
Once your new roof has been installed, we will take several steps to make sure everything gets cleaned up. We will also perform a final inspection of your new roof to make sure the quality matches the high standards you expect when investing in a roof replacement.
Call or Email Us Today
Our Team Is READY To Help!